Visualization Configuration
Grafana Configuration Template
Note
The monitoring metrics template of the erasure coding subsystem is not included in the corresponding configuration module example yet, and will be improved later.
You can use Grafana to display monitoring data, as shown in the figure below

Refer to the *.json files in docker/monitor/grafana/provisioning/dashboards/ for template configuration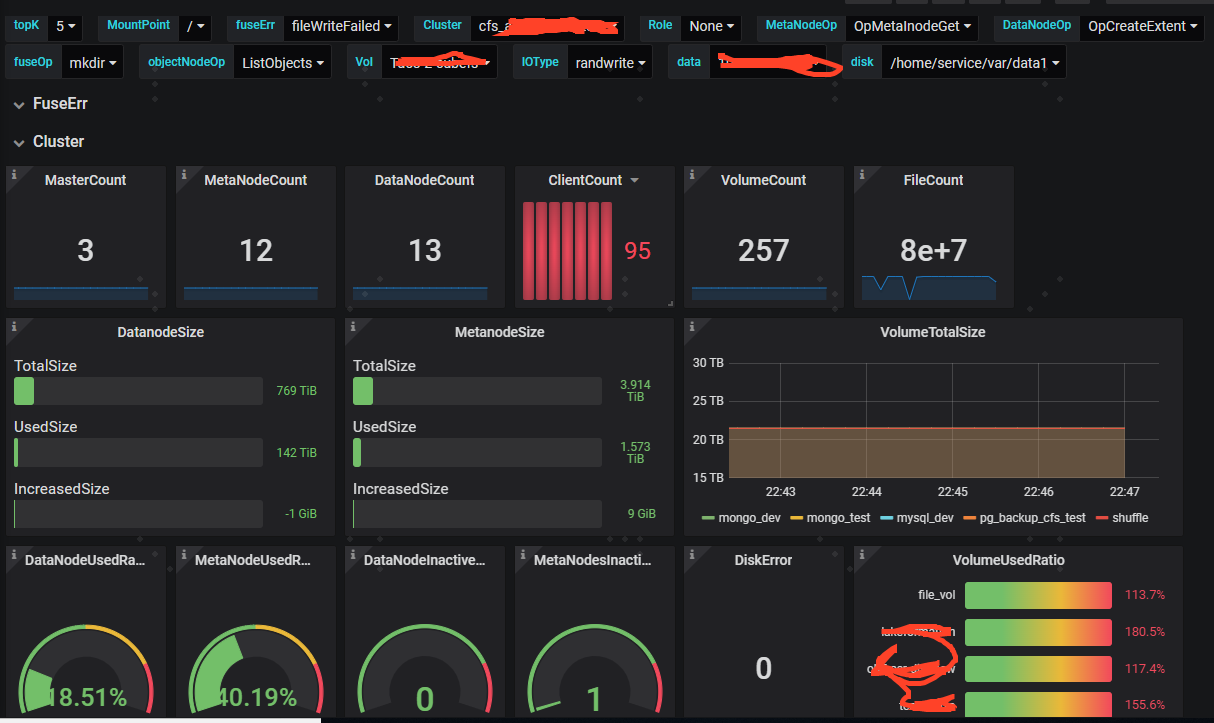 You can configure monitoring alarm capabilities through Prometheus Alertmanager, refer to the alertmanager documentation
Related references
Erasure Coding Subsystem Metrics
You can configure personalized monitoring panels based on the monitoring metrics items introduced earlier, such as the following panel examples.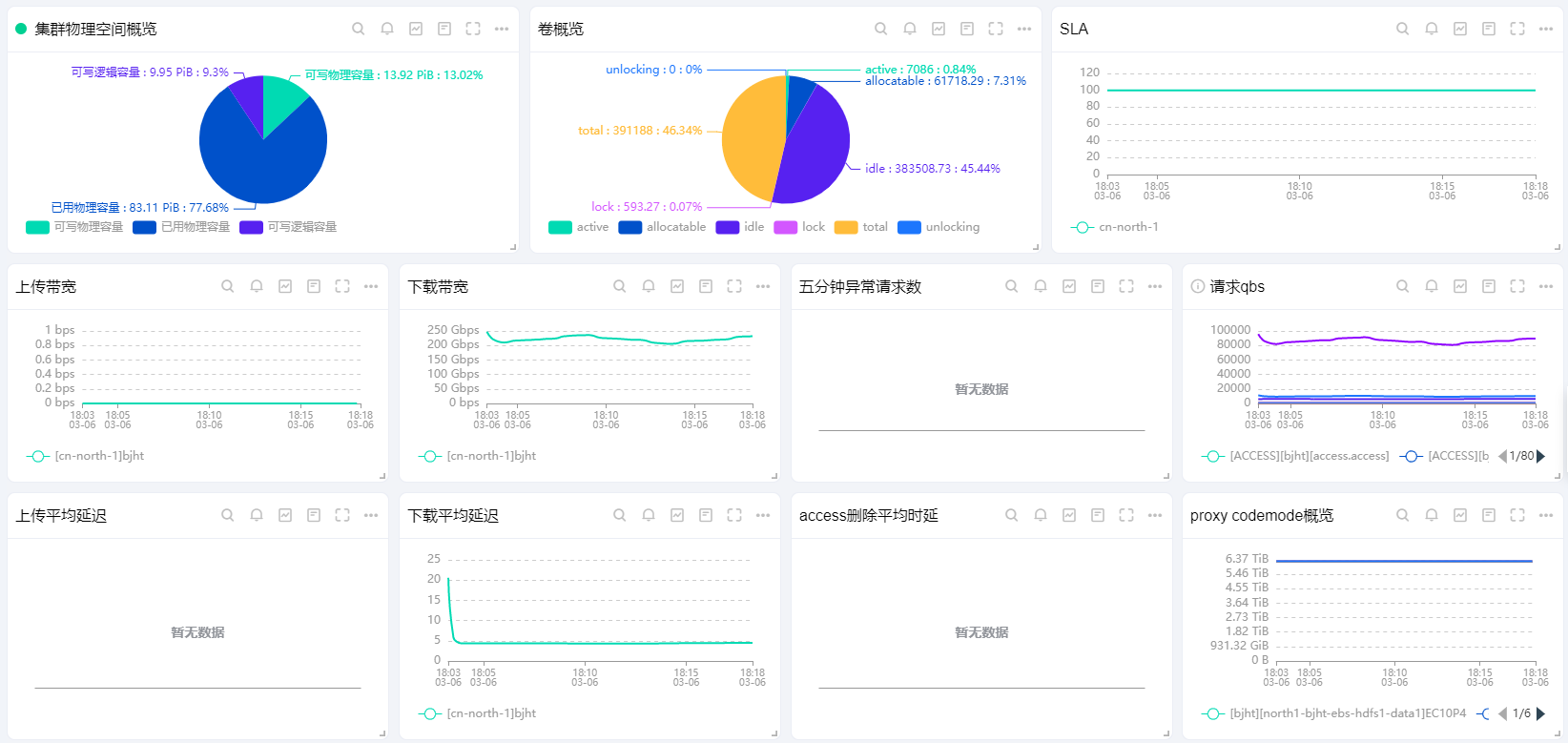 Note
Replace cluster/cluster_id with the cluster ID
The service label is the service name, configured in the audit log metrics configuration item.
Cluster Physical Space Overview
# Writable physical capacity




# Unit: bytes




sum

 by 

(

item

)

(

blobstore_clusterMgr_space_stat_info

{

cluster

=

"

${cluster_id}

",item

=

"FreeSpace"

,is_leader

=

"true"

}

)





# Used physical capacity




# Unit: bytes




sum

 by 

(

item

)

(

blobstore_clusterMgr_space_stat_info

{

cluster

=

"

${cluster_id}

",item

=

"UsedSpace"

,is_leader

=

"true"

}

)





# Writable logical capacity




# Unit: bytes




sum

 by 

(

item

)

(

blobstore_clusterMgr_space_stat_info

{

cluster

=

"

${cluster_id}

1",item

=

"UsedSpace"

,is_leader

=

"true"

}

)



Volume Overview
# Unit: count




sum

 by 

(

status

)

 

(

blobstore_clusterMgr_vol_status_vol_count

{

cluster

=

"

${cluster_id}

",is_leader

=

"true"

}

)



SLA
((

sum by 

(

service

)

(

rate

(

service_response_code{service

=

"ACCESS"

,

code

=

~

"

4.

.

|

3.

.

|

2.

.

|

1.

."}[

5

m]

))

>

0

)

/

(

sum by 

(

service

)

(

rate

(

service_response_code

{

service

=

"ACCESS"

}

[

5m

]

))

>

0

))

*100

Upload Bandwidth
# Unit: bits/sec




sum

 by 

(

idc

)

 

(

rate

(

service_request_length

{

service

=

"ACCESS"

,api

=~

"access.put|access.putat"

}

[

5m

]

))

*8

Download Bandwidth
# Unit: bits/sec




sum

 by 

(

idc

)

 

(

rate

(

service_response_length

{

service

=

"ACCESS"

,api

=~

"access.get"

}

[

5m

]

))

*8

Five-Minute Request Exceptions
# Unit: count




sum

 by 

(

api,service,code

)

(

increase

(

service_response_code

{

code

!

~

"200|206|404|700|702|621|622|651|654|923"

}

[

5m

]

))

>

0



Request QPS
# Unit: count




sum

 by 

(

service,idc,api

)

(

rate

(

service_response_code

{

}

[

5m

]

))



Average Upload Latency
# Unit: ms




(

histogram_quantile

(

0.95

, 

sum

 by

(

idc,le

)

 

(

rate

(

service_response_duration_ms_bucket

{

code

=~

"2.."

,service

=

"ACCESS"

,api

=~

"access.put|access.putat"

}

[

5m

]

))

))

>

0



Average Download Latency
# Unit: ms




(

histogram_quantile

(

0.95

, 

sum

 by

(

idc,le

)

 

(

rate

(

service_response_duration_ms_bucket

{

code

=~

"2.."

,service

=

"ACCESS"

,api

=~

"access.get"

}

[

5m

]

))

))

>

0



Average Deletion Latency
# Unit: ms


histogram_quantile

(

0.95

, 

sum

 by

(

idc,le

)

 

(

rate

(

service_response_duration_ms_bucket

{

code

=~

"2.."

,service

=

"ACCESS"

,api

=

"access.delete"

}

[

5m

]

))

)

>

0



Proxy Codemode Overview
# Unit: count




sum

 by

(

idc,codemode

)

 

(

blobstore_proxy_volume_status

{

cluster

=

"

${cluster_id}

",type

=

"total_free_size"

}

)



Background Migration Rate
# Unit: bits/sec




sum

 by 

(

task_type

)

 

(

rate

(

scheduler_task_data_size

{

cluster_id

=

"

${cluster_id}

"

}

[

5m

]

))

*8

Shard Migration Count
# Unit: count




sum

 by 

(

task_type

)

 

(

rate

(

scheduler_task_shard_cnt

{

cluster_id

=

"

${cluster_id}

"

}

[

5m

]

))



Task Cancellation or Redistribution Count
# Unit: count




sum

 

(

increase

(

scheduler_task_reclaim

{

cluster_id

=

"

${cluster_id}

"

}

[

5m

]

))

 by 

(

task_type

)




sum

 

(

increase

(

scheduler_task_cancel

{

cluster_id

=

"

${cluster_id}

"

}

[

5m

]

))

 by 

(

task_type

)



Background Task Count
# Unit: count




sum

 by 

(

task_type,task_status

)

 

(

scheduler_task_cnt

{

cluster_id

=

"

${cluster_id}

"

}

)



Repair Message Consumption Latency
# Note: Replace the topic with the corresponding repair message topic


min by 

(

cluster_id,topic,partition

)

(

kafka_topic_partition_consume_lag

{

cluster_id

=

"

${cluster_id}

",topic

=~

".*.shard_repair.*|shard.*"

,module_name

=

"SCHEDULER"

}

)



Deletion Message Consumption Latency
# Note: Replace the topic with the corresponding deletion message topic


min by 

(

cluster_id,topic,partition

)

(

kafka_topic_partition_consume_lag

{

cluster_id

=

"

${cluster_id}

",topic

=~

"blob_delete.*|.*.blob_delete.*"

,module_name

=

"SCHEDULER"

}

)



Free Chunk Distribution
sum

(

increase

(

scheduler_free_chunk_cnt_range_bucket

{

}

[

1m

]

))

 by

(

le

)

>

0